"But I'm disturbed, I'm depressed, I'm inadequate...I got it all!"
Well, it's just one of those days were the sleep thing is simply not happening, and what better way to spend a sleepless night than to rant and rave a little.
So after what can basically be summed up as a disturbing series in Oakland
, the Sox have shown signs of life in Arizona, taking the first two games including last night's barnburner in 10 innings. There was one highlight from the trip to the Bay Area however, as Curt Schilling came within one out of throwing a no-hitter (think he's going to shake off 'Tek anytime soon?). Outside of his Yankee starts (three of them, 14 earned in 18 innings, a 7.00 ERA), Schilling has actually been pretty solid this year, which is absolutely critical, because with two solid starters in the rotation (Schill and your pre-All-Star Game Cy Young winner Josh Beckett), it absolute reigns havoc on an opposing team in a short series. Sure, the rotation has been filled with question marks outside of those two, but as long as there is a solid foundation in place, the Sox will be rolling for a good long time. Also, the Yanks have started to make their inevitable "run" towards the top of the division, so it's so important to be able to bounce back from a horrendous series, like the one they had in Oakland, and win a series on the road against an up-and-coming team like Arizona. Look for an incredible pitching matchup today between The Big Unit and Dice-K. This one should be interesting.
So Roger made his triumphant return to the Yankees yesterday, and looked decent against the Pirates...yes, the Pirates. Hmmm, so of all the times for Roger to come back, they pick a game at home against a team who is ten games under .500. Ok, say all you want about "fatigued groins" and all that other spiel that they are throwing out there, the bottom line is
simple: The Yankees really don't know what they are getting from Clemens, so it was more or less another rehab start where all the elements were perfect for Roger to come out, get a win, get the crowd into the game, and try and make an about-face after a horrendous two months to start the year. I'm all for easing a guy back into action, but this is Roger freggin' Clemens we're talking about. On last check, he has over 4,000 K's, 300 wins, six Cy Youngs, and will be a first-ballot Hall-of-Famer whenever he decides to finally hang it up once and for all. I saw Clemens against Portland, and saw him against Pittsburgh yesterday, and I'll say this: The Yanks better hope that Clemens will be able to bring more than what he brought yesterday, because against comparable hitting in the AL, he is going to get shelled. His fastball is down in velocity, his split-fingered did not really have the kind of action that we are used to seeing, and overall, he just seemed "average" on the mound in the appearances I've seen him throw. Look, I know it's early, and that he is going to build up his arm strength and sharpen his mechanics, but still, when you're paying a guy $28 million pro-rated, you probably should be expecting the results to be a little more emphatic and immediate than what they are about to get from Clemens. His next start is likely to be against the Mets at The Stadium, which will be his first real test this year, and could be a prelude to what Yankee fans can expect from "The Rocket," at least for the next few weeks.
Sorry I wasn't able to get a Stanley Cup recap up sooner, but here we go. The Duck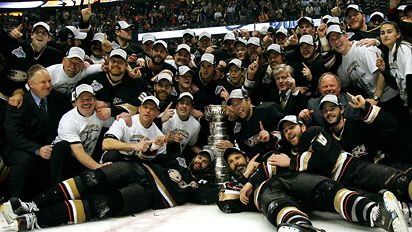 s made an absolute mockery of the Sens in Game 5, winning the first Stanley Cup in franchise history, and marking the first time a west coast team had ever won a Cup. So the last three Cup winners have come from Florida, North Carolina, and California. Oh the irony of it all. In any event, the series went completely against what I thought it would be. Of course, defense and goaltending are going to be huge factors in terms of wins and losses, but the fact that offense really had nothing to do with the series was a bit of a surprise to me. Ray Emery was disastrous in net for pretty much the entire series. Whether it was due to skill or the magnitude of each stop he needed to make in each game, or a combination of the two, well, that may never be answered. What was answered was the fact that Emery broke down, especially in the decisive last game, where he allowed six goals on just
18 shots
, a .667 save percentage, which is simply atrocious. In the five games, Emery allowed 16 goals. When you are giving up more than three goals a game in net, there stands a good reason that your team will only be able to go five games. Also, Ottawa's front line of Alfredsson, Heatle
y, and Jason Spezza failed to produce any kind of results. Overall, the line finished with a +/- of -3 (plus-minus is a measure for how many goals are scored on your line vs. how many the opposition scores while you are out on the ice; -3 means that when the Alfredsson line was on the ice, the opposition scored three more goals than his line scored...this a very good barometer for defencemen, but also, it shows if an offense was efficient, which Ottawa's was clearly not). Even though Ottawa did not win, I still have to acknowledge the Ducks. Outside of Scott Niedermayer, none of the players, or coaches for that matter, had ever won a Cup. Also, special consideration also has to be given to Teemu Selanne, who was one of the original building blocks, along with Paul Kariya, that Anaheim formed its franchise around. Selanne likely skated his last shift in the win, and has had a stellar NHL career since joining the league in 1988 with Winnipeg.
Tonight marks the final show for the hit HBO series "The Sopranos," arguably one of the most influential shows to ever hit television. While rumors have been swirling around how it all will come to an end, I only have one question: How can this only be an hour long? Are they really going to be able to bring closure to every single character in just an hour? Knowing David Chase and the rest of the creative team, I have to say that this is not going something you are going to want to miss.
So a lot of stuff going on today. You have the race at Pocono, Sox/D-Backs with the Sox going for the sweep, Gamecock baseball at 7, Army Wives at 10 (my cousin Brigid is one of the stars of the show, she's the one with red hair, and in being completely objective, it's actually a good show), and, of course, The Sopranos. So, I'll be writing fairly soon, and until then, good night, and good luck. Peace.
~Mell-o