"Well I tried to make it Sunday, but I got so damn depressed."
Hey now! Just checking in to preview Sunday's game (which hopefully will be the "rubber" game) between the Sox and Yanks. Again, there's a few things out there to discuss. So let's dive in shall we?:
Again, tonight is Game 6 of the Eastern Conference Finals between the Pistons and the Cavaliers. One of the greatest stories so far this year has been the way LeBron James literally wills his team to victory after victory. With a cast filled with a bunch of sixth men, James has gone above and beyond what anyone since Jordan has done, especially in the playoff
s. James, so far, has averaged 26.2 points, 8.3 assists, and 7.9 rebounds a game in the postseason. Simply amazing considering this is only his
fourth year in the league
. He has already stepped up and claimed the leadership role. He knows that this team will only go as far as he will allow them to, and therefore, not only has good individual numbers, but has also made an attempt to get others, like Ilgauskas, Hughes, and Gibson, involved as much as he can. 8.3 assists for a small forward is unheard of. Here's something else to consider: Throughout the regular season, when James played after one day's rest, he averaged 30.4 points a game. When he gets no rest, 26.2, two days, 23.6, three days, 18.0. So it seems as though James plays at his best when the games are continuous and he still has a feel for the game. When I was thinking about this game, I basically just assumed that James, statistically, was better at home than he was on the road, considering Cleveland is
6-1
at home in the playoffs. However, this actually is not quite the case. In a statistical breakdown, I found that James' home and away splits were actually quite similar. Here's a breakdown of home and away, and another column featuring away games not including his groundbreaking performance in Game 5 at Detroit:
PPG RPG APG FG%

Home
26.29 7.71 8.29 44.44%
Away
26.13
8.13 8.25 43.56%
Away (-Game 5)
23.00 8.00 8.43 40.77%
So, as you can see, James has been great no matter where he played, so the fact that he is playing at home tonight really has no bearing on how well he will play. The only thing that may change him is the fact that he is just one game away from the Finals, somewhere Cleveland has never been before. In many ways, Cleveland is under
more pressure
to win this game than Detroit. They have been in basically this exact situation already, just one year ago...the circumstances were a little different (conference semis vs. conference finals), but the other implications were the same. Cleveland had a 3-2 series lead on Detroit heading into a Game 6 at Cleveland. James had himself a great night (32-11-5), but the rest of his team did not, as Detroit had four players hit double figures, and barely snuck out with a victory, 84-82. Consider this too: Although Detroit was horrendous at the free-throw line (16-28, 57.1%, most of this having to do with the Wallaces, Rasheed and Ben, who went a combined 4-13), Cleveland was equally as bad from behind the arc (2-12, 16.7%), which ultimately proved to be the difference. With Ben Wallace in Chicago now, their only real physical presence down low is Jason Maxiell and Antonio McDyess (more on his situation later), and Maxiell can barely stay in the game due to ongoing foul trouble issues. Therefore, it has been a much easier road for Cleveland to score in the paint, as they were able to shoot 47.6% from inside 15 feet. When you compare that to when they shot 35.4% in last year's Game 6. With their ability to get more quality shots off down low, Cleveland has a distinct advantage over last year's team, who, again, only lost by
2 points
. If James is able to do half of what he did in Game 5, I don't expect Cleveland to have any problem with Detroit. However, if Detroit looks back to the way they neutralized James in Games 1 and 2 (12/34 from the field a 35.3%), then there is the chance Detroit can sneak this one out. The first two games' scores were identical at 79-76. Obviously, the Pistons do not want to get into a shootout with the Cavs. In their two wins, they have scored an average of 79 (duh), and in their three losses, they have averaged
92 points
. Yes, this is incredibly strange, but these playoffs have been a little strange for Detroit. When they have won, they averaged 92.5 points. When they lose, they average 91. However, when you throw out the Orlando series, in which they won four straight games, they have averaged 89.5 in the other victories. Again, meaning that when
they are able to keep the scoring down, they have a much better chance of pulling out a victory. Last year, however, it was clear that, while Detroit did play a rough style of basketball, the difference between winning and losing was much greater, especially in the Cleveland series, where they averaged 93.3 when they won, 77.7 when they lost. Luckily, Antonio McDyess was able to avoid any suspension that would have kept him out of Game 6, meaning that, in the very least, they will have some presence down low, and although he certainly is not Ben Wallace, he, in the very least, could make the Cavs gameplan for him. In terms of who I think will win, I'm going to go against the grain on this one. I'm gonna stick with the Pistons purely based on the fact that I want to see LeBron in the Finals, much like I wanted to see Oden or Durant in Boston, and so far, the NBA has been screwing with me, so I believe that it will continue to work that way. Look for Chauncey to have a big game as well, because, well, he's good, and of course, was a former Celtic that a certain Coach Pitino didn't see as being fit for his "vision for the future," and traded him
in his rookie year
. Good work. Did Louisville even make the
Big East Tournament
last year? "I'm not so sure about that."
So how about what happened in Chicago yesterday? "Holy cow!" That was too good to pass up, sorry. Anyway, I guess Carlos Zambrano and Michael Barrett had a bit of a "difference in opinion," so to speak. After giving up five runs in the fifth inning of yesterday's game against the Braves, Zambrano said something to the effect of "are you out of you
r mind?" to Barrett, and when Barrett started firing back, things quickly escalated, and ended with Barrett and Zambrano throwing down. Barrett ended up with a cut to his lip and a bruised eye. Zambrano and Barrett both explained that the reason they were fighting was because they are "so close." Yeah, well I guess that's one way of putting it. Another way would be that the Cubs have lost five straight, and are 2-8 in their last 10, netting them a 22-30 record, 7 1/2 behind the division-leading Brewers (what a crazy thing to say). Another way is that Zambrano, who will become a free agent at the end of the year, and was penciled in to make about $14 mil a year with either the Cubs or his new team (and by the way, he still might), is off to a 5-5 start, sporting a 5.62 ERA, quite a difference between his first 12 starts from last year, where, although he had a 3-3 record, his ERA was more than two runs lower (3.42). And yet another way of saying it is that Barrett, who is also in his contract year, is hitting 26 points under his career mark (.241 to .267) and 47 points lower than he was through this many games last year (.288). Also, keep in mind that this is not the first time Barrett has lost his cool in an altercation. Recall when the Cubbies played the White Sox, and Barrett, in a reaction to fellow catcher A.J. Pierzynski's emphatic slap of the plate after a collision on a bang-bang play at home, slugged Pierzynski in the mouth, igniting a bench-clearing brawl between the two teams. S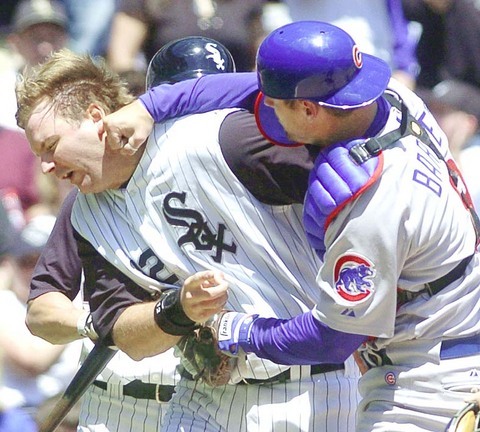 o, when you have all those volatile forces coming together, tempers are bound to flare, no matter how "close" you are with the other player. The Cubs, overall, have had a very frustrating season. Soriano has not been worth nearly the amount of money they paid for him (.289, 4 HR, 12 RBI, 8 SB). Prior and Wood again have been total non-factors. They come into today's game with the 11th best bullpen in the NL (4.38 ERA), and are ninth in runs scored (236) despite being third in batting average (.266). The bright spots have been Derrek Lee (.362, 5 HR, 32 RBI), Jason Marquis (5-2, 2.93 ERA) and Rich Hill (4-4, 3.06 ERA). After the off-season spending spree Chicago went on, I'm sure these were not the results they were going for.
Alright, onto the preview of tomorrow's game (8:00 ESPN) that will pit Andy Pettitte against Josh Beckett, a game that has all the implications of being a classic. First, a little bit about Pettitte. Well, he likes pitching against us, and that was apparent in his last start ag
ainst the Sox at "The Stadium," where he tossed seven strong innings, only allowing one earned despite giving up nine hits and only getting two strikeouts, and got plenty of run support, as Schill got rocked, leading to an 8-3 win for the Yanks. Pettitte has been a lot better than his record may indicate (3-4), especially in his last five starts, where he has pitched seven or more innings, allowing three runs or less in each. Pettitte comes into the game with a 2.51 ERA, 4th in the AL. When you look at the split stats, there's not a whole lot of encouraging things, or too much that the Sox could perhaps take advantage of, against Pettitte. In 24 career starts against the Sox, Pettitte is 14-6 with a 3.10 ERA in 24 career starts, and 5-2 with a 2.92 ERA in 10 starts at Fenway. There are two noticeable statistics in terms of something you may keep an eye on. When Pettitte pitches, opponents are hitting .262 in the first 75 pitches he throws in a game. That number jumps up to .282 when he throws over 75. Again, the key to at least trying to get to Pettitte will be plate discipline and working the count. The biggest thing I can determine about Pettitte is that he is "human" when he is behind in the count. Allow me to break this down for you guys:
Count OBA SLG

1-0 .338 .532
2-0 .351 .619
3-0 .308 .654
0-1 .303 .447
1-1 .304 .441
2-1 .348 .528
3-1 .365 .598
0-2 .179 .251
1-2 .174 .236
2-2 .191 .263
3-2 .234 .313
So it's obvious that getting ahead of Pettitte in the count is the only true way to "get to him." Otherwise, if you are swinging freely (despite the fact that the opposition hits .348 off of his first pitch), and let him control the tempo of the game, forget it. This has been the achilles' heel for the Sox over the years in terms of facing a "finesse" pitcher. The Sox will trot out Josh Beckett, who is the early leader to win the AL Cy Young, has had an incredible year so far, going 8-0 with a 2.65 ERA. The key to Beckett's success has to be how he has been able to keep the ball in the park this year. Last year, going into his start against the Yankees in June, he had already given up 14 homers. This year, just two. A reason for this has been Beckett's ability to trust other pitches outside of his blistering fastball (ok that was a decent pun right there...blister?...ok, maybe not). Anyway, after his "skin irritation" landed him on t
he DL, he came out in his last start and pitched great, going seven, giving up two runs on just three hits while striking out seven, and only needed to throw 91 pitches, which is an important stat. Beckett has gone over 100 pitches just three times this year, and the good news is that it's not because he hasn't been able to go deep into games, it's just that he hasn't needed to throw a lot of pitches to get outs. He has pitched six or more innings in all but two of his starts, with one of those being the game when he came out due to the skin problem. Again, getting ahead in the count is key to breaking down Beckett, especially when he gets into counts with three balls and less than two strikes (3-0: .571, 3-1: .400). In the regular season, Beckett has been, well, terrible against the Yankees, going 3-2 with an
8.44 ERA
in five career starts, including his start against them this year, which was a fight of a start, going 6 2/3, giving up four runs in a 6-4 victory, Beckett's fourth victory of the year. Again, the key for Beckett to get a win tomorrow will be to have a good handle of all his pitches, especially his curveball, which has been awesome this year. Runs will be at a premium, so look for Boston to do some "manufacturing" to get on the scoreboard, a practice that the Sox tend to stay away from for the most part.
Thanks for reading guys. You'll be hearing from me again soon. Have a good one. Peace.
~Mell-o