Saturday, May 26
"Everybody move to the back of the bus."
Well, I was able to charge up my battery, and now, I'm going to attempt to wrap up my little trip here. Last stop was in the ATL at Turner Field, watching the second consecutive "Game of the Week" of the trip (last Saturday it was at Shea) between the Braves and Phillies. Once again, the home team faltered. Amazing how saying a little thing out loud can kill the chances of basically every home team remaining on the trip (Tampa Bay fortunately survived a Mariner onslaught in the late innings to win). So, to recap, the home team went into Bowie, MD a perfect 7-0, and after that, went 1-5. Oh well. Anyway, the Braves, outside of Edgar Renteria (yeah, apparently he's good in th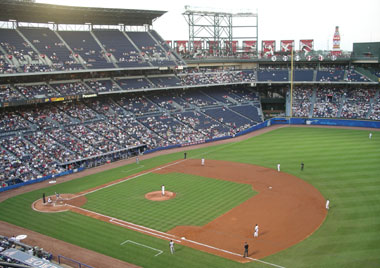 e NL, but the AL is his kryptonite or something), looked dismal, as they grounded into a bunch of double plays and could not get any timely hitting from their big guns. Speaking of big guns, Chipper Jones was nowhere in sight today. I don't know if he's hurt, or he was getting the day off, or what the deal was with that, but even in a pinch-hit situation, Chipper's name was not called, so I found that incredibly peculiar. Andruw Jones has been a shell of his former self, which really hurts not only the Braves right now, but Jones for the future, as he is about to hit the market, and perhaps sign the last deal of his professional career, so if there was a year where he really needed to perform, it was this one, and so far, he has not fit the billing of a guy in a "contract year." Of course, because he's on my fantasy team (yeah I said it), I have been following his progress all season long, and have compared him to Torii Hunter, who is also in a contract year with the Twins. Hunter has been hitting over .300 all season long, and is still showing why he is a very marketable commodity as a five-tool centerfielder. While Andruw does now have the kind of speed Hunter does, he makes up for that by playing an equally good center, and hitting close to 45 homers a year. You have to hope for the Braves', and my, sake that Jones can turn it around at some point this year, because although the Braves do have a fairly good lineup, it doesn't work as well if there is no offense coming in that cleanup hole, where he is sandwiched between Chipper and Jeff Francoeur.
Speaking of the game, Antonio Alfonseca came on in the ninth and shut the door on the Braves to earn the save. It is so important that the Phillies attempt to fill the void that was first left by Tom Gordon, and is now being left by Brett Myers, both of whom were outstandi
ng. Alfonseca, best known for his six fingers on each hand (you heard right), has bounced around from club to club after losing his closer job in Florida a few years back. He has mainly been used as a set-up man since then, but the guy still has tremendous stuff and good velocity. It was an outstanding pickup by the Phils to go out and get him, basically for this exact reason. Yes, it is great to have a set-up man who used to close, but that's a luxury few teams have, and when the main guy goes down, if you are able to say "well, if we give the ball to this guy, he is just as capable of getting those three outs as our #1," then you have it made. The Phillies definitely have lucked out in this situation, but still, you have to wonder how strong the rest of the bullpen is now that everyone has been bumped up one spot and now have to pitch more innings than they may have been expecting. Not quite sure of the severity of Gordon or Myers' injuries, but if Alfonseca is able to hold down the fort for the time being, then the Phillies can, at the very least, hang around in the NL East, because it doesn't appear that the Mets are about to run away with it just yet.
So, I guess that's it. The trip, college, it's all over. If you're in the Carolinas, come by on August 11th, everyone is welcome, and it's going to be one of the better days of my life for sure. Again, I really want to thank everyone for keeping up with this. I assure you that just because college is done for me, the blog will definitely continue, and I'll be trying different things to try and keep this a positive experience for you guys, and I hope you'll stick with me here. Next entry will be from the villa in Charlotte. Take care now, and try to stay safe. Peace.
~Mell-o