"Did you ever have to make up your mind?
Pick up on one and leave the other behind
It's not often easy and not often kind
Did you ever have to make up your mind?"
Yesterday, in one of the most bizarre couple of hours you will ever see, Kobe Bryant confused me, and probably a majority of sports fans, by first coming out on Stephen A. Smith's ESPN radio show and asked to be traded:
"I would like to be traded, yeah. Tough as it is to come to that conclusion there's no other alternative, you know?"
Then he followed up by saying "no, I just want them to do the right thing" in terms of if there was anyway someone within the Laker organization could talk him out of it. So, ok, Kobe wants out, and the speculation begins about the potential landing spots for Bryant, who most have said is the best overall player in the league, and when you talk about Houston or Phoenix being potential suitors, you're talking about a move that could put a team over the top in terms of their title aspirations. Then, later on in the day, Bryant was on the Dan Patrick show, and seemed to back off of his demands a bit:
"It's tough. I always dreamed about retiring as a Laker. I just hope and hope that something can be resolved. Something can be figured out. Just something so I can stay here and be in this city and be with the team I love."
Apparently, he also talked to Phil Jackson within the few hours between his two radio spots, and Phil assured Kobe that he will be back and would like to remain for the rest of his career, a move Bryant felt was "very encouraging." So now, the Laker organization, as well as the general public, have come to a paradox on what to think about what exactly is going on in this guy's head. First of all, it is obvious that a part of him wants to be traded. I mean if he wa
s so set on being a Laker, then the words "I want to be traded" would never be uttered. So, it's a question of how badly he wants to stay in L.A., or equally as tricky, how badly he wants to get a fresh start with someone else. It's clear that if Kobe does leave L.A., it will most likely be for a team who can contend now rather than later, because Kobe has already tried to be the guy who leads a group of young kids along, and that hasn't worked out too well, including this year, where, although the Lakers did make the playoffs, they were dispatched in a relatively easy fashion by the Suns in five games. Also, they only finished two games above .500 (42-40), so it was also lucky that L.A. even found their way to the playoffs. In getting back to guiding a group of young guys, it's not happening, so those theories of Bryant perhaps ending up in Boston, Philly, or Atlanta are out. If Kobe were traded, Chicago, Dallas, and Phoenix seem to be likely candidates...maybe even Houston. However, considering the pieces that each of those teams would have to give up to meet the Laker asking price, which you know will be astronomical, would leaving L.A., a place he has played his entire career, and an organization that backed him throughout all his troubles both on and off the field, be worth it? Personally, I don't believe it will be. As far as the Lakers not doing anything to improve the team, which is apparently what Kobe believes has happened, they really couldn't do anything after they traded Shaq, a move some consider was spear-headed by Kobe (although he has denied this, and said that Jerry Buss, the Lakers owner, was the one who wanted Shaq out). Since then, they were forced to take on Brian Grant's huge contract, and then, made one of the dumbest trades in the last few years in the NBA, trading Caron Butler, who was acquired for Shaq, and Chucky Atkins, for Kwame Brown and Laron Profit. However, when you look at need over value, the Lakers needed a big man, and they have had no luck in replacing Shaq to any degree. So now, you have to question Bryant's patience, as, although they have had no luck in really getting Kobe any kind of surrounding cast outside of Lamar Odom, at least they have tried. It's not as though they have stood idle and watched their team be relegated to
barely making the playoffs,
whereas before they
dominated out in the West
. I just think it would be a mistake for Kobe to want to opt out of L.A. It's not as though he hasn't won a championship before (he owns three), and although they didn't have the best season, you're still looking at a team that finished above .500 out West. If Kobe winds up on another team, barring just a few exceptions, the core of the team will most likely be Kobe, and maybe another guy who can kind of hang, like Odom, meaning that he will swap uniforms, but ultimately, wind up in the same situatio
n he is already in. Here's another interesting tidbit I was reading in an AP report: Kobe has a no-trade clause, and has four years remaining on his existing contract, which will pay him $88.6 million over the next four years (this is what is remaining from the seven-year, $136 million contract he signed three years ago, the day after Shaq was traded to Miami). The key thing to note is the no-trade clause, because although that can be waived by Kobe, that would activate a $13 million option that will be added onto what Kobe is owed. So, if Kobe were to be traded, he would be owed $101.6 million over the next four years, an average salary of $25.4 million. With a soft salary cap in place (meaning that once a team goes over a certain salary figure, they are forced to pay what's called a "luxury tax" for every dollar they go over...the actual salary cap figure was $53.135 million last year, but because this is a "soft" cap, teams were allowed to spend up to $65.42 million before they were forced to pay a luxury tax...monies from the luxury taxes teams that go over have to pay are then divided up amongst other teams in the league), teams will be cautious about spending $25 million on a guy no matter how good he is. Also, when teams are trading in the NBA, they are forced to "match salaries, " meaning that there can be little to no difference in the amount of money in contracts that can be moved between two teams. This also causes a problem, because, although that extra $13 million will not count against a team trying to match salaries, they are still going to have to give up $20 million in salaries, and not all of those are going to be veterans with expiring contracts, which are an attractive commodity considering the team acquiring the player only has to pay them for one year. So, who will be willing to make this move anyway? There's even one more thing to consider. Say a team is enamored by Bryant, and knows he is not going to be happy in L.A., they could roll the dice and wait it out for a year, because Bryant has an option in his contract that would release him from his current deal, and effectively make him a free agent, meaning he would be available to every team, and not cost his new team any players or draft picks (in every potential deal, I have seen a first rounder being moved, so that's why I threw that clause in there). In any event,
patience
is going to be the key word. How patient will Bryant be in terms of the Lakers making an attempt to become an elite team again within the next four years of his deal, and how patient will other teams be in terms of giving up a truckload of players, draft picks, and money to acquire Kobe when they can wait a year and see if he will want to get out of his deal? We will eventually get an answer on this...just be patient.
A-Rod is back in the news, and again, it's something he did that has everyone either scratching their heads, wondering "who is this guy?"...or there are the others, who just exclaim pure outrage for anything this guy does. Last night against the Blue Jays, Jorge Posada hit a fly ball, one in which Jays third baseman Howie Clark seemed to have a pretty good
read on. When A-Rod was heading to third (runners were in motion because there were two outs in the inning), he appeared to yell out something to distract Clark, as he it looked like he became spooked, and moved away from the ball as it dropped in. The play was ruled a hit, allowing the Yanks to score their eighth run, and, more importantly, keeping the inning alive with Jason Giambi coming up, with runners now on second and third (Giambi then proceeded to single in his at-bat, scoring both A-Rod and Posada, making it a 10-5 lead for the Yankees, a score that would ultimately turn into the final in the end). When asked about it, A-Rod commented that "sometimes it works, sometimes it doesn't" when asked about why he did it, and also, he said he yelled "Hah!" to distract Clark. Ok, first of all, I've seen the play about twenty times today, and I'm convinced he yelled "Mine!"...but I mean that's just my opinion on that. I don't read lips, but I'm pretty sure that's what he actually said. In any event, dude, what are you doing? Why is it that A-Rod just can't fall into the Yankee system? Is this like another cry for help for him to get out of New York? Why can't he just try and play baseball and not do any of this other stuff? I just think he's trying too hard to fit in, and he's taking it too far in terms of trying to win to a point where it becomes unsportsmanlike. First the Arroyo play, then with Pedroia a week ago (although you could go either way on that), and now this...seriously, someone needs to sit this guy down and be like "the Yankee ways are innate, and they cannot be learned...if you're going to be pulling these antics, don't act like you're a Yankee, because you're not." Hey, I hate the Yankees as much as the next guy, but I
respect the Yankees
. I respect them enough to know that the current lead of 13 1/2 is going to shrink pretty soon, and I'm
100% sure of that
. However, I do not respect a guy like A-Rod, who thinks that he has to do things besides playing the game to get his team a victory. I know there are ways you can go "above and beyond" in terms of helping your team, but those means are supposed to be within the standards of the game. Sure, there's probably not a rule against yelling at a player in an attempt to
distract him, but that is just something you don't do. It shows no class, and I'm in full agreement with Jays manager John Gibbons when he called the play "bush league." Will you ever see a guy like Jeter or Posada do that? Absolutely not. Those guys have class. They are true Yankees because of the way they conduct themselves. A-Rod wants to be a Yankee, but he is doing things to drive his teammates
away from him instead of bringing them together.
Sure, he'll get a clutch hit and be a hero for a day, but that won't last. Yankee Stadium is already booing him even though he leads the majors in homers. They won't boo Jeter, Posada, or even Matsui if they make a mistake because, in my opinion, they are throwbacks to the dynasty of the late 90s, which, again, is one of my "keys" for turning the Yankees around. A-Rod should opt out of his deal, if for any other reason, to just escape the limelight of New York, because it's obvious that he was not ready to undergo this amount of scrutiny...man am I glad we didn't end up with him.
Anaheim won Game 2 of the Stanley Cup Finals last night, and are on the brink of dominating this series. Again, I thought the series had a great chance of being split, and that offense would drive this series, but it appears that Ottawa left their game somewhere near Niagara Falls, because it's clear that they have brought little or nothing to the table in terms o
f offense. Last night, only
16 shots
on Giguere. Come on now. This was not the team I saw play against Buffalo. Also, Ottawa has not been able to capitalize on one of the major weaknesses that has plagued the Ducks all year long, which are penalties against Anaheim. Ottawa is 1-11 on power plays (9.1%). The Ducks led the league in penalty minutes during the regular season, and rank 6th in terms of penalty kill in the playoffs. Ottawa, meanwhile, has scored 12 powerplay goals on the road, which consummates in an outstanding 27.9% of powerplays scored on away from Ottawa. The ultimate difference has been Anaheim's outstanding defense, with Pronger and Niedermayer patrolling the blue line, making it incredibly difficult for Ottawa to get shots off. Both are former Norris Trophy winners (Pronger also won the Hart Trophy for MVP of the league), and once Pronger was added from Edmonton, who reached the finals last year, their defense was solidified as one of the best in the league. However, I'm not so sure how long Anaheim can maintain this momentum. Playing in Anaheim, the crowd was of course going crazy, and there was a definite "home-ice" advantage that was favoring the Ducks. However, once those powerplays start cropping up while they are playing in Ottawa, there's not going to be any encouragement from the crowd when they are on the kill, and when even members of the team, including Giguere and coach Randy Carlyle, have publicly displayed their displeasure with the amount of penalty minutes, you know that this will eventually be a problem. I'm not going to change my prediction, and still am partial to Ottawa, but if you asked me again, right now, who I think would win, ultimately, I would probably lean towards Anaheim in seven, because it's apparent that, although the Ducks are shooting themselves in the foot, they are getting away with it at home, and if they are able to win just one game on the road, this series will be over. If Ottawa can somehow win every game at home, you're looking at the potential of a 3-3 going into Game 7, where it's anyone's guess.
For just the third time in the Open Era, no American man reached the second round of the French Open, and this to me, is a huge "red flag" in terms of the status of tennis in America. I'm not an "avid" tennis follower, but I definitely keep up with it, and it just seems like we have nothing going on out there, and that there is nothing coming down the pipe in terms of replenishing the talent. I mean outside of Andy Roddick, James Blake, and t
he occasional cinderella that comes around every so often, what else is there? I'm not really going to get into it too much here, but I just think that tennis' popularity is really going downhill, and it has been ever since Sampras and Aggassi retired. It experienced a slight increase when Roddick took down the U.S. Open a few years ago, but there hasn't been anything after that to really catch the public's eye. Another thing that has perhaps dropped tennis' popularity has been the ongoing dominance of Roger Federer. Although Federer has a rival in Rafael Nadal, especially on clay, the surface the French Open is being played on, Federer has won pretty much every major over the last three years, and has dominated the tennis world in general. In a way, this is almost like what Tiger Woods did around 2000, when Tiger just won everything he played in. Here's my take on this: Tennis will be in a stand-still unless someone comes along that fills the following requirements:
American
Rival of Federer
Sex Symbol
Charismatic
When Roddick won the U.S. Open, it was assumed that he would be the heir-apparent to Pete Sampras, and continue the American dominance of the majors that Sampras once had. Once Roddick began to falter, hope seemed lost in terms of someone knocking off Federer. Much like in golf, ratings started to rise once Phil Mickelson proved he could actually win a major, and stopped his string of "choke jobs" by winning the Masters. If Roddick, or some other American that I haven't heard of, wins a big match over Federer or Nadal, and can continue having success against them, I'm convinced that tennis will resurface on the landscape of American sports.
The recent allegations against Michael Vick have been shocking to me. He is accused of being "heavily involved" in a dog fighting ring back in his home state (commonwealth) of Virginia. With the evidence continuing to pile up against Vick, it's becoming clear that there is at least some truth to these rumors, or else, this is one of the biggest conspiracies in recent sports history. What is troubling to me is that Vick was supposedly a model citizen, but over the past few years, in terms of flipping off fans, issues with women, and dog fighting, it looks li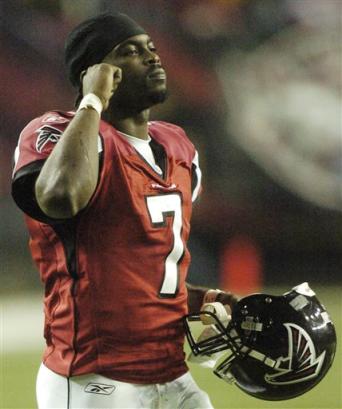 ke we, or at least I, had this guy pegged all wrong. This makes me think about what happened at Virginia Tech a couple of years ago with his brother, Marcus, and how he was booted off the team "due to a cumulative effect of legal infractions and unsportsmanlike play." This included weapons and drug charges, and an incident in the Gator Bowl against Louisville, when he stomped on a Louisville player during the game. Through all of this, I was left wondering "wow, you would think he would look at his brother's example and try and tone some of this behavior around him." Well, it turns out, he was taking after his brother, but not in the way I perceived Michael Vick to be. It turns out, Vick definitely has the "thug" mentality, and although he is the face of the league, and the franchise QB in Atlanta, still, he cannot shake these things, which to me, seem to have become habitual. Although he never was convicted for weed...come on...who carries around a water bottle with a secret compartment? He said it was for his jewelry...my chains don't smell like weed though, which is reportedly what Miami officials smelled when he was taken in by security at the airport. I understand you not wanting to change your roots, but there has to be a line somewhere that you just can't cross. Vick supposedly has been involved in fighting rings since 2001 while he was still at Tech. The whole notion of this is completely ridiculous in my opinion. Are we really living in a country that this kind of animal cruelty goes on in? And the other thing is that we are finding out about this
now
. I mean who knows how long these fights and these groups have been going on for? Also, it seems to be incredibly co-ordinated, with bus shuttles to fights, and "pits" that are located below floorboards, so that if the fight was busted up, the ring could be covered quickly. Plus, the amount of money being thrown on these dogs is unbelievable. I mean we're talking 30, 40, $50,000 a fight. Still, the underlying message I'm throwing out there is that this kind of behavior, no matter if you're from the streets, or a guy with a 10-year, $130 million contract, this is sick. It's sick. I don't even know how else to describe this kind of behavior. There is no way to dumb that down. It's obscene, disgraceful, and what more...
illegal
. If Roger Goodell is going to continue to follow through on his stance to alleviate bad behavior from the NFL, then he is really going to have to step up to the plate with Vick, because although a guy like Pac-Man Jones is a "pro-bowl caliber" player, Michael Vick is one of the most popular players to have played the game in a long time. Like him or not, he is perhaps one of the most exciting players to have hit the NFL, maybe ever. So this is the ultimate test to see what Goodell does in this situation. He will definitely be ridiculed if he goes light on Vick, no matter if Vick is found to be guilty or not, because after su
spending Pac-Man, basically just for "bad behavior," for an entire season, if Vick gets nothing, or even if he just gets a few games, it will be looked at as Goodell playing favorites, and going lighter on a more marketable guy (although I would think Vick's marketability has taken a hit since these charges surfaced) than he would on a non-superstar. If Goodell throws caution into the wind, and suspends Vick for a year, he will effectively be sending a message to the league, with that being "look, I don't care how much money you make, or how much you make for this league. If there is specific and concrete evidence that you are involved in illegal activities like what Vick, Jones, and Chris Henry were involved in, you're going down, and that's all there is to it." I hope Goodell makes the right choice on this one, because since he has been commissioner, he has really made a stance on cleaning up the league, and Vick is probably going to be the guy with the highest profile to come into this much trouble, so he needs to continue with this objectively, and not look at what the potential impact of the league will be if Vick isn't playing, because the league is healthy enough to sustain the kind of impact this could potentially have.
That Matt Schaub trade is looking like a bit of a mistake now huh?
Alright, well, that's all from the lab. Keep checking, because the updates are going to be pretty rampant now that I have some time on my hands. Take care everyone. Thanks for reading. Peace.
~Mell-o