Friday, May 25
"Don't you wanna see the game chief?"
Greetings everyone. Reporting live from Tampa, as we are officially in the Memorial Day weekend spirit, and after checking out Minor League Baseball's offices this morning, are heading to Dunedin (wherever that is) to see the Dunedin Jays against the St. Lucie Mets. We really haven't seen a bad game while we have been on this trip, and it was certainly true yesterday from the Trop, as the Rays managed to hold off the M's i
n a defensive struggle, 13-12. Seriously, these teams need a lot of help in terms of pitching…a lot. Tampa gets a high draft pick every single year, but they better hope that they buck this recent trend of only having their hitters excel in the majors, and guys like Dewon Brazelton fizzle out on the mound. They do have Scott Kazmir, but it's already showing that he cannot lead this team by himself, as he has barely been able to get past five innings in any of his starts. Tampa is in dire need of one of its young guns (Jeff Niemann, Jacob McGee, Wade Davis) to step it up and at least take a little bit of the pressure off of Kazmir, who is one of the best pitchers in the majors, and a legitimate #1 on most teams. The Mariners are a team moving in the opposite direction however. Tampa actually looks like it is still growing and improving, while the M's look like they are driving in reverse. What happened was that Seattle made a
catastrophic mistake in signing Adrian Beltre a couple of years ago to a massive contract that basically put the Mariners in handcuffs as far as going out and signing an elite pitcher who could compliment young Felix Hernandez, as from all indications, he is about to bust out into full-blown super-stardom in the next couple of years. Richie Sexson is not helping matters either, as he is hitting under .200 on the year so far. Sure, if you have a sub-.200 month, that can be explained, but once you go two months, now that's a different story. Sexson, from past performances, will probably snap out of this, but for right now, he is really hindering his team. The thing that will hurt the most is if, by chance, when Ichiro hits the open market next offseason, they won't be able to sign him. I will say this right now. If there is anybody that is as valuable to his team in terms of getting people out to the park and selling shirts, it's Ichiro to Seattle. With an ever-growing Asian population in the northwest, Ichiro possesses much more value than he brings on the field to Seattle, and you know how much he can bring when he's out in center. So they are unable to keep Ichiro, look for Seattle to be floundering in both the standings and in the wallet.
Tropicana Field itself is actually a pretty nice place. Although it definitely isn't the most ideal place to catch a game, everything outside of the game is really great...I even petted actual sting rays...in the park! That was probably the last thing I expected to do, but it was a pleasant surprise. The restaura
nt out in center is massive, and it basically takes after what Toronto did with the SkyDome. Then, you have the party deck and the Power Alley Pub also out in the outfield, so there are definitely a bunch of places you can go to watch the game and have some adult beverages...in a responsible manner of course. The Ted Williams Museum was very tight, and again, that was a pleasant surprise to see some of Teddy Ballgame's memorabilia, and take a trip down memory lane with the Sox of the 40s and 50s. The team store has two levels, with the top level being devoted basically to the Sox and Yankees, which is probably something you will never see in any other "team store." I mean I know they're trying to bring in revenues from wherever they can, but come on now. Sox and Yankees in the Devil Ray team store? That's a little much. So, my theory on why there is so much to do at The Trop: Create distractions that deter people from watching the game itself, because although they have some building blocks with Kazmir and Carl Crawford, this team won't be good for a long time. I see a definite Clipper thing going on here, and what they really need is a veteran presence, like with what L.A. did when they got Elton Brand and Sam Cassell. They need guys who have been winners in their careers to try and buck the ongoing mindset of the Rays. Lou Pinella made an attempt, but his tenure probably cut a bunch of years off his life, and eventually, became so fed up that he had to leave coaching for a few years, ultimately landing in Chicago over this past offseason. My thinking is,eventually, they'll be able to draft some pitchers to help this team. I mean, you can't miss every time...can you?

I can't believe we're picking 5th...help me now.
Did LeBron get fouled in Game 2? Well, considering the circumstances, and also, when you look at how the rest of the game was officiated, I have to say no. In a regular season game, LeBron gets that nine out of ten times. However, we're talking playoffs here...a touch foul like that is not going to be called. Again, the refs were really letting them play, and whether you ag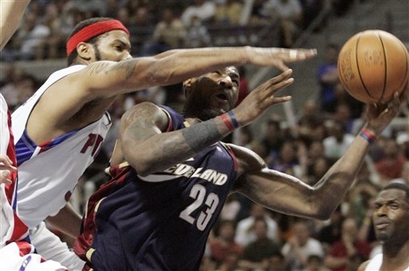 ree with it or not, still, you have to reward the refs for calling a consistent game. The action is going to be a little more intense, meaning that the average play is probably going to have some contact, so there is no way everything is going to be called. It really is going to have to be blatant for the refs to blow their collective whistles. LeBron again is going to have to step it up in the next couple of games. I'm sure it's not his idea for the Cavs to be a one-man team, but guess what? It is. So now, LeBron is going to have to deal with what he's been given. To say that he is not being a leader is ridiculous. The guy is 22 years old, and the front office has surrounded him with a bunch of spare parts (Z in the middle is a pretty good option though). For Cleveland to have a real shot at winning a championship, they are going to have to open up the pocketbook and spend some dough to get a star to shoulder some of the weight which is almost impossible for one man to shoulder, considering that weight is coming not only from a city or a state, but from an entire region.

~Mell-o